Turn It Up
by
Inez Kelley
My rating:
4 of 5 stars
I decided to read this book for two reasons: (1) I liked the premise - how often do you see a romance book where the hero withholds sex to convince the heroine about his good intentions towards her? - and (2) I loved, loved, loved
Sweet as Sin
, my introduction to Ms. Kelley's work.
So, did it live up to my expectations? I'm glad to say it did, even though it didn't reach the 5-star rating. :)
Dr. Sebastian "Bastian" Talbot and radio host Charlie (that's her name, not a nickname) Pierce have been best friends for years, always there for each other through thick and thin. Somewhere down the road, she roped him into guest speaking on her late night radio talk show and their flirty banter was such a hit with listeners, she invited him to co-host a radio talk show with her. Now he can be found either working gruelling shifts at the ER day and night, at the mercy of whoever defines the department work schedule, or co-hosting
Let's Talk about Sex with Dr. Hot and the Honeypot
with Charlie, three nights a week.
Dr. Hot and the Honeypot: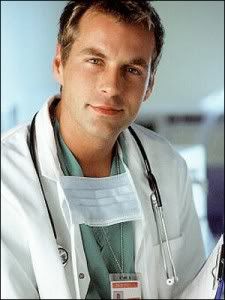 Bastian's friendship is Charlie's anchor, the one thing she values the most in her life. He feels the same about her, but can't help wanting more than just being her best friend. His feelings for her have changed over the years and now he wants to marry her and make love with her - in that order! Unfortunately for him, she doesn't believe in love, HEA is just a myth to her and, worse, she gets angry at him for threatening their friendship with his "love and marriage" talk. She thinks that it's only lust and he just wants to have sex with her, like every guy she's met since her boobs made an appearance in her early teens.
Decided to prove to her that he's serious about his marriage proposal and having sex with her, while it's definitely part of the package, isn't what's moving him, Bastian comes up with the ultimate plan: he won't have sex with her (or anyone else, for that matter) until she accepts to marry him! On her part, Charlie bets she can make him change his mind, therefore proving that sex is really what's driven him to confess his love for her. And so the battle of wills begins... Who will cave first and lose the bet? Well, I've found out, but I can't tell you. ;)
What I can tell is, I wanted Bastian. To win the battle, that is.
*lusty grin*
He wasn't the kind of hero I'm used to find in Romancelandia and that was refreshing. He was very open about his feelings and had no qualms about putting his heart on the line - over and over again, no matter how many times Charlie tried to step on it. That didn't mean he was a pushover, of couse. He was just determined to win her heart in return, something he was sure he was going to get as soon as she stopped running from her own feelings.
Charlie was more difficult to like. What woman in the world wouldn't want to be loved by Bastian? Okay, I'm kidding. That isn't the reason I didn't quite connect with Charlie. My main "problem" with her was, her conflicting emotions drove me a little nuts. She loved him. She didn't love him. She wanted him. She didn't want him. She truly loved him. Or maybe not. Ack! As much as I understood her awareness of getting emotionally involved with Bastian, she took a bit too long to overcome it - and when she did, it seemed rushed. I know, I'm not making much sense here, but that's how I felt. I mean, she'd had all those relationship hang-ups
because of her mother's behavior
since she was only a child, so I didn't believe that a "simple" conversation
with her mother
was all it took to get her over them. That was too close to a Big Misunderstanding for comfort.
Besides that, I still don't know what to think of Charlie's morals... I mean, she wasn't loose or slutty, but she did something in the early stage of her friendship with Bastian that is a big no-no in my book.
Bastian was married at the time but his marriage was about to crash and burn, so he was an emotional wreck. In order to give him some solace, Charlie offered herself to him. Sexually, with no strings attached. Heck no, woman! The man was married. Married!
Ugh, I did
not
like that and I'm afraid it tainted my perception of her throughout the book.
Regardless, I liked Bastian and Charlie together. Sure, I still think he deserved better, but she was the one he loved and she was nice and fun when she wasn't struggling with herself. They had great chemistry, their banter as Dr. Hot and the the Honeypot was funny and endearing at the same time, and the sexual buildup was
hawt
!
If you like friends-to-lovers stories, you'll most certainly enjoy this book. If it wasn't for Charlie, this would have been a 5-star read to me.
Note 1: I received this eARC from Carina Press via NetGalley. That had no influence on my review/rating.

Note 2: Pictures were taken from Inez Kelley's website, where you can find some very interesting free stuff, like Bastian's brother Caz's short story.
View all my reviews