Fantasmagorical
by
Annmarie McKenna
My rating:
2 of 5 stars
Gabe and Lance, who have been friends and lovers for years, fall "in love" with Evan 15 minutes after meeting her. Yeah,
both
men fall for her instantly and equally. Then, the happy trio spend all week having sex like bunnies in various combinations (m/f/m, m/m, f/m/m), all the while thinking what a match made in heaven they are. But what will happen when the weekend is over? Will Evan be interested in turning that sex fest into something permanent? Duh.
Sorry, but this story didn't work for me. I didn't feel any emotional connection with the characters and I didn't believe in their relationship for a minute. Considering the premise and the complete lack of character development, love should have been kept out of the picture. I've bought Instant Love stories in the past and I'm sure I'll keep buying others in the future. All I need is an emotional pull: I need to
like
the characters. That didn't happen in this story, hence the 2-star rating.
Ménage, Calvin Klein style: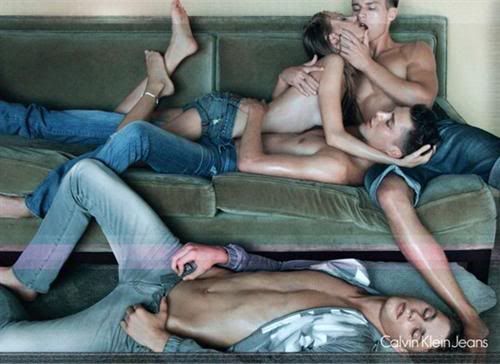 Now, that's more like it. :)
View all my reviews