Undressing Mercy
by
Deanna Lee
My rating:
4 of 5 stars
First off, let me show you how I pictured Shamus while I was reading this book: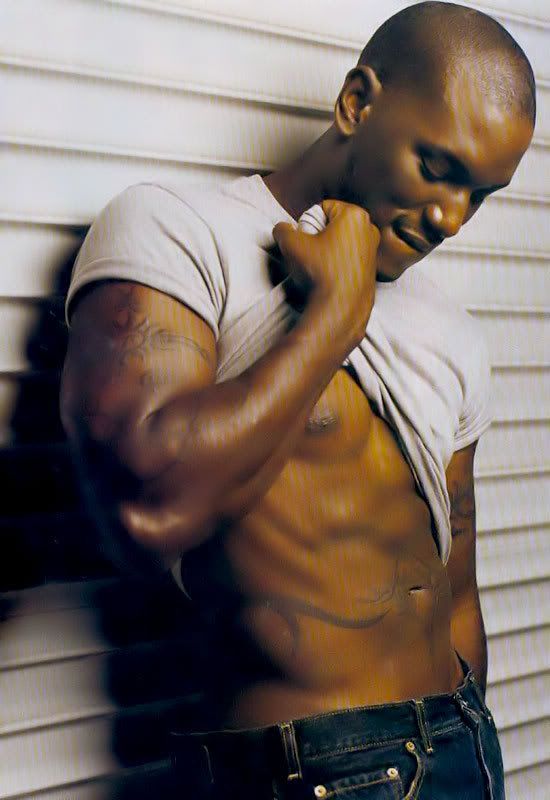 ("Check out these abs," he says. "Aren't they to die for?" Oh yeah! LOL)
Now, on to the review...
Mercy Rothell works as Assistant Director at the Holman Gallery and her professional life couldn't be better. She's only a few months away from being promoted to Director and signing up internationally known artist Shamus Montgomery for a showing at the art gallery will only consolidate her position and thwart the current Director's attempts to dismiss her. Mercy is willing to do anything to secure the contract with Shamus Just-Call-Me-Shame Montgomery and she inadvertently lets him know that
before
he signs it. Shame, who has no shame (come on, you knew this bad pun was coming!), takes advantage of the situation and tricks her into agreeing to pose for him - in the nude, of course.
Despite her best intentions, Mercy finds herself strongly attracted to Shame - and she doesn't know how to deal with it. She's still not over the traumatic event she went through 2 years ago, so having her sexuality suddenly aroused by Shame scares her. Will she run away and hide, as she's been doing for the last couple of years? Or will she finally muster the courage to get her personal life back on track?
This book was narrated by Mercy, and I knew from the start that I would have some problems with that because I'm not a fan of 1st person POV. When I read a romance book, I
need
to get inside the hero's mind to know and understand him. That is rarely achieved in 1st person narratives and the only exception I've found so far is
Jeaniene Frost
's
Night Huntress series
. But I digress...
Despite my initial misgivings,
Undressing Mercy
turned out to be a very good read. I really liked Mercy and understood her fears and emotional insecurity. Even though I don't have the experience to know it for sure, I thought that her "healing" process was believable. Of course, having Shame as an incentive didn't hurt.
Shame!!!
What can I say about him that you can't see in the pic I posted above? Well... I'm afraid I don't have anything to add, as I really didn't get to know him as well as I got to know Mercy. He was hot, yummy and sensitive, but that was all. I blame the 1st person POV for turning Shame into an almost cardboard character.
As for the writing, I think Ms. Lee has done a great job showcasing Mercy's personality through her behavior and actions. The premise of the book made me think that this story would be highly focused on Mercy and Shame's sexual explorations, but that wasn't the case. There was a really good plot moving the story along and the sex scenes weren't there just for show. They were an intrinsic part of Mercy's emotional "healing". They were steamy hot too, of course. ;)
This was my 1st book by Ms. Lee, but I don't think it will be my last. Browsing her backlist, I found out that some secondary characters of this book have their own books too and I'm certainly interested in checking them out.
View all my reviews