Lipstick on His Collar
by
Inez Kelley
My rating:
4 of 5 stars
I fell in love with
Inez Kelley
's writing in
Sweet as Sin
and I was anxious to read another one of her books. It took some time, but I finally did - and I'm glad to say it was oh-so-good! :)
Bram Winters is an Emergency Communications Specialist and the nature of his job keeps him constantly on the road. He travels from town to town on request, evaluating an area's geography and equipment to formulate a package of communication equipment needed and present his company's expertise and price. As he finds himself alone in one of the many small-town motels of the country on the eve of the 4th of July, he decides to relax a little and join the town's festival. And that's when he sees
her
...

"Alone, in the middle of a small dance area, oblivious to the couples around her, a woman swayed. A punch of pure sexual longing knocked the breath from his chest. The tiny little dress in deep blood-red skimmed her thighs and clung to curves that made him salivate. Her shoulders and hips moved to the tune, her eyes closed, lost to the music's caress. A dewy glow turned her skin to gleaming gold in the summertime evening sun."

The sexual attraction between Bram and
Lady
, the mysterious woman who doesn't want to share her name, is instant and combustible, leading to a night of hot, unforgettable passion. But when Bram wakes up in the morning, she's gone - and he doesn't know how to find her because he still doesn't know her name... But their story isn't over yet, and fate makes their paths cross again five months later. Will Bram finally find out who she is and why she ran away from him all those months ago?
This was basically a sex-between-strangers kind of story and I'm not a big fan of that premise, but I think Ms. Kelley has done a great job setting up Bram and
Lady
's one-night stand. Their love scenes were scorching hot, but I believed that there was more to them than simple lust. I wouldn't go as far as to say it was love, but I did feel the emotional pull between them. Bram was one sexy hero, of course, and he seemed to really care for
Lady
.
Now, I was more skeptical about
Lady
's reason for acting the way she did. Not because it was silly or stupid, but because not all her actions were in sync with it.
I didn't feel she was truly scared of her ex. If she was, she wouldn't talk back to him when he threatened her and she would certainly not get down and dirty with Bram in the Laundromat knowing her ex was stalking her from across the street. But then, Bram could be hard to resist...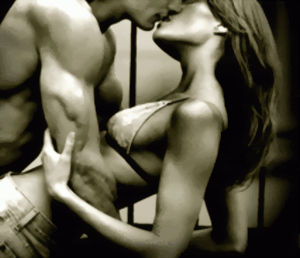 Anyway, her fear just didn't feel real to me.
I "blame" the short length of this story for that, as that particular aspect needed more pages to be better developed. Its off-screen resolution is a case in point. I wanted to be shown what happened, not to be told.
I liked the way
Lady
's name was kept a mystery throughout the story. It gave a special meaning to her revelation at the end of the book and I swear, I smiled like a ninny when she shared her name with Bram. It was such a sweet moment!
*sighs*
Overall, I really enjoyed this story, and I recommend it to everyone looking for a steamy read with a sexy hero, an engaging heroine, and yowza-worthy love scenes. Sometimes, that's all we need!
View all my reviews