The Blonde Bomb Tech
by
Lara Santiago
My rating:
3 of 5 stars
The beginning of this book was a blast - literally.

Ten ... Run!
Nine ... Run Faster!!
Eight ... You better move your butt!!!
Seven ... Where the hell is the minimum safe distance barrier?
Six ... Thank God, there's the perimeter. Jump for it.
Five ... Who's that in the way?
Four ... Who cares! Tackle him.
Three ... Damn! Hard, lean, muscular body under me.
Two ... Whoa! Hard, lean, muscular body over me.
One...
Boom!

Sabrina Morgan, dubbed "The Blonde Bomb Tech" by the press, has never found a bomb she couldn't diffuse - until now. Used to working under pressure, her cool and no-nonsense demeanor has always dictated her professional and personal life - until she fails to diffuse a bomb for the first time in her life and her façade starts to crumble. She manages to get out of the building just before the explosion, only to find herself flattened to the ground under the protection of yummy firefighter Jake Donovan.
Jake has been fascinated with Sabrina since he read the story the local newspaper did on her two monhts ago. He's still trying to find the best way to be introduced to her when fate, or better, a bomb throws her into his arms. The site of a bomb explosion isn't the most romantic place, but sparks fly (no pun intended) when Jake's and Sabrina's eyes meet. Jake is determined to pursue a relationship with Sabrina, but she's wary of getting emotionally envolved with him because... well, because she's got a lot of baggage. (I can't elaborate on it because it would be a spoiler.)
When a second bomb explodes another building the next day, Sabrina and her partner Murphy wonder if there's a connection between the two bomb attacks. Their investigation uncovers not only that connection - but also an unexpected connection with Sabrina's past. A past she barely remembers. As the bomb threats escalate and she tries to find out who the bomber is and why he's targeting her, her relationship with Jake gets more serious - and more complicated, because she knows there's no future for them. Or is there?
I loved, loved, loved Jake! He was the ultimate hero: strong, caring, fun, loyal, protective, understanding, trustworthy... Should I go on? Oh yes, he was also gorgeous and "hung like a stallion" (as Sabrina didn't hesitate to tell an obnoxious firefighter who was jealous of Jake.) Here's "my" Jake: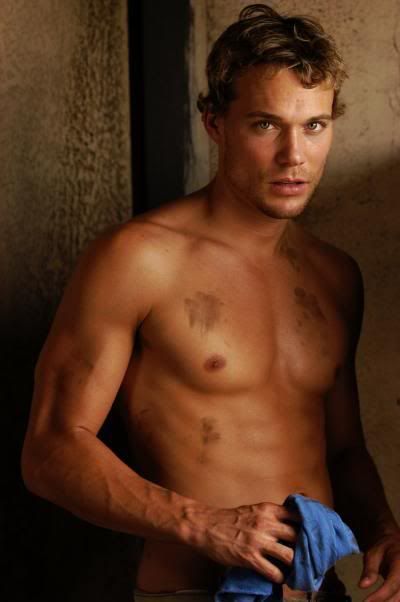 (Incredibly, the pic above fits the story. There's a scene in the book where Sabrina arrives at Jake's and finds him working on his car. He's shirtless - yum! - and has some grease stains on his chest.)
Unlike Jake, Sabrina was a "difficult" character to love. She wasn't b!tchy or anything like that, but she spent too much time feeling sorry for herself and failing to see that Jake wasn't the kind of man who would leave her because of her "shortcomings". I understood her insecurities, but I thought she should have snapped out of it sooner than she did.
I admit I was surprised when I found out who the bomber was, because I had other character in mind, but I was disappointed at the way his/her identity was revealed - I mean, he/she chose to come out for what he/she thought it would be the
gran finale
, but it would have been much better if Sabrina had discovered his/her identity during her investigation.
This was my first read by Ms. Santiago and I can't say I was impressed with her writing. There was too much telling (with pages and pages of info dump) and not enough showing in some parts of the book, and that was jarring. For the most part, the story had a nice pacing and I liked the scenes that showed Sabrina and Murphy on the job. I don't know how accurate their technical talk was, but it seemed real and I bought it.
Overall, this was only an okay read to me. I wouldn't mind reading another book by Ms. Santiago, but I'm not running to get it.
View all my reviews