Dangerous Secrets
by
Katie Reus
My rating:
3 of 5 stars
I had insomnia last night and this was the book I chose to read to pass the time. I can't say I stayed awake because the story was so riveting I couldn't stop, but it was good enough.
Isabelle "Izzy" Ballantine has moved from Savannah, GA to Coconut Bay, FL to get a reprieve from her overprotective, meddling father and she's quite happy working as a bartender and living on her own. Sure, money is tight now and then, but going back home to live under her wealthy father's shadow isn't an option that interests her - especially now that her boss has hired tall, dark and handsome Adam to work with her...
In order to cinch the multi-million-dollar Forester deal, security expert Adam Marcellus lets Izzy's father convince him to move to Coconut Bay and keep an eye on her - without her knowing his true identity, of course - for five weeks. It's icing on the cake if Adam can convince her to return to Savannah, but as long as he assures her father that she's safe, he will land the Forester deal. He manages to get a job at the same bar she works and is nicely surprised when he meets her and realizes that she isn't anything like the spoiled rich princess he thought she would be.
Adam is undeniably attracted to Izzy and vice versa, but he holds himself back because he knows they have no future. Not only he's been lying to her since they met, but he's also learned the hard way that a classy woman like her would never settle down with a straight blue-collar working man like him. When Izzy unwittingly crosses a sexual predator's path and becomes his next target, Adam finds himself reconsidering his decision to stay away from her and fighting to keep her alive. He only hopes she forgives him when she finds out the truth about him...
I liked this story - most of it, anyway. Adam and Izzy were very likable and had good chemistry together. Their relationship progressed a bit too fast, but not in a completely unbelievable way. Izzy's reaction when she finally finds out Adam's identity and the bargain he's made with her father was predictable and I couldn't help feeling somewhat disappointed because I'm not fond of that particular cliché. On the bright side, I really liked their love scenes. Skinny-dipping at the beach, anyone? ;) Check this out: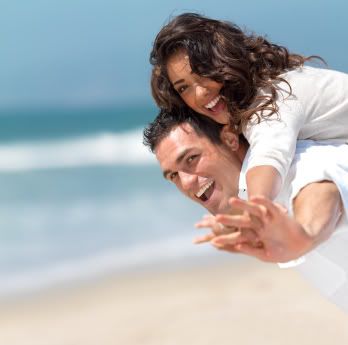 Haha! What did you want to see? Adam and Izzy did have sex in the ocean, but I'll leave that to your imagination, LOL.
As for the suspense, I was surprised when I realized that Adam wouldn't be playing an active role in investigating and catching the bad guy. His job was to protect Izzy, and it was up to the police to chase and get the man who was after her. It was refreshing to get the detectives' POV, as secondary characters rarely get to have that kind of attention, but their scenes were rather bland and I never got fully engaged in the progress of their investigation.
All in all, this was an okay read. And last but not least, it got a bonus point for the nice epilogue.
Note: I received this eARC from Carina Press via NetGalley. That had no influence on my review/rating.
View all my reviews