Colt's Choice
by
Patrice Michelle
My rating:
3 of 5 stars
I love cowboys in Romancelandia. I have yet to meet one in real life that lives up to his fictional counterparts, but I don't let that ruin my fantasy. :)
Colt Tanner loves and lives for the Lonestar Ranch and has always believed he'd eventually inherit his uncle's half of the ranch and become its sole owner. But when the time comes, he's surprised to find out that his uncle has left his half of the ranch to someone else - his widow - who in turn gives it to her niece, Elise Hamilton. Colt offers to buy Elise out, thinking that
his
ranch is the last place a spoiled "princess" used to a wealthy lifestyle like her should be, but she surprises him by refusing his offer and showing up on the ranch wanting to be an active co-owner.
Colt can't help feeling strongly attracted to Elise, but he doesn't believe she's really interested in staying at the ranch in the long run. He's sure she'll be back to her society life as soon as the novelty of living on a ranch wears off, so he holds back. Elise's decision to leave her comfortable (but empty) life in Virginia and move to Texas wasn't made on a whim, and she's determined to convince Colt she's there to stay. If only he wasn't so stubborn...
Hmmm, I kind of liked this story... The characters and the plot were formulaic, reminding me of a much hotter Silhouette Desire book. That in itself wasn't a bad thing, as I don't think there's anything wrong with using a formula that works. I really liked the first 2/3 of the book, but the last 1/3 felt "forced". Some events
- like Colt's mother sudden reappearance and timely revelation -
didn't ring true and were unnecessary. I mean,
Colt finding out that his mother wasn't as coldhearted as he'd always believed would make him reevaluate his opinion about "city girls", but it would have been better to have him love and trust Elise despite his prejudice.
As for Colt and Elise, I liked them - but I didn't
love
them. Colt was the standard alpha cowboy: dominant, protective, gruff, jealous and oh-so-sexy, yay! Elise was strong and independent, but she agreed to Colt's proposal of a no-strings affair a bit too quickly. There was no sexual tension between them, which was a pity, but I can't complain about their love scenes. They were hot and plentiful!
*fans herself*
Due to the need to guard his heart against Elise, Colt made sure to never sleep over at her place. He didn't really sneak out like a thief in the middle of the night, but this pic reminded me of him: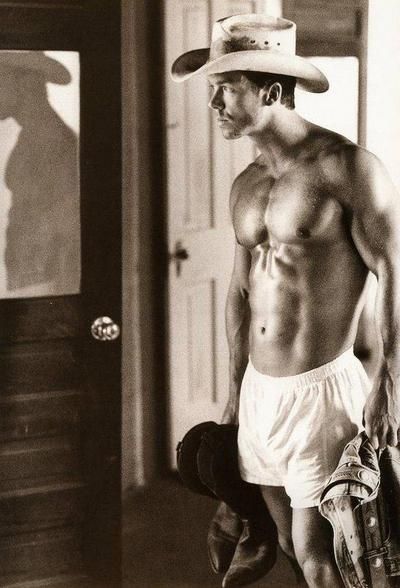 Even though I didn't enjoy this book as much as the previous ones in the series, Ms. Michelle is still one of my authors of interest. I wish she wrote Colt's brothers' books, but I won't hold my breath because it's been more than six years since
Colt's Choice
was published and there's been no hint about Cade's or Mace's book so far. Oh well.
View all my reviews